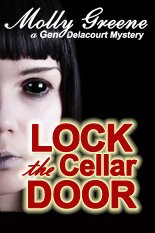 Lock the Cellar Door is out, Book #6 in my Gen Delacourt Mystery Series. I've made it a tradition to share what I've learned between launches (here are the posts following publication of Book 2, Book 3, Book 4, and Book 5), so here goes.
Production
After trying several methods to rev up my writing schedule and decrease time between book launches, I've given up. I decided I don't actually want to work faster. Three books a year is it for me. More than that and I fear a psychotic break. Although I love to write and am ecstatic that I can make a little money at it, I do actually heartily enjoy (gasp!) the times when I'm not actively writing or editing, which is mentally intense. Give me some garden clippers and let me while away the hours pulling weeds or trimming the Vinca for a while. Amen.
Promotion
I've been super fortunate to have gotten four BookBub slots since late December 2014. I still can't get into a 99 cent promo on the platform, though, as so far they'll only accept my titles if I offer them free. This has accomplished my goal of accruing reviews and bringing attention to my series, but I'm still finding the bump in sales doesn't last longer than 3 – 5 weeks, so I haven't "made" it into the big time yet (haha) where my book sales are consistent.
Milestones
Twice my titles have made it to #1 Free in the Kindle store, and it felt really great. I've hit "Top Rated" lists – and stayed there – and in May, my Author Rank was #95 out of the Top 100 best-selling Authors in Amazon's Mystery Category. It was short-lived, but I was proud all the same.
Methods
I'm a blinders-on-slash-plodder, "one foot in front of the other" kind of person. That means I'm a horrible multi-tasker and don't do well with too many things on my plate. Because of that, I've stuck to the plan I created for myself in January 2014, which was to focus on writing good books in my current series. That means I've turned down interesting offers to join and be active in authors' groups, write in Kindle Worlds, guest post on multiple blogs, be part of anthologies, and several other interesting – but distracting – projects.
There is no doubt in my mind that these activities would have been fun, lucrative, interesting learning experiences that also would have introduced me to people, platforms, and events that might have been great for my career. But I also know they would have slowed me down from my primary goal: writing more books to build my back list. I'm not saying that you shouldn't jump on opportunities as they come along, I'm saying know yourself and your tolerance for busy-ness, establish what is most important to you, and weigh the pros and cons of opportunities before you jump in.
Release Timing
Late May and early June do not seem to be the best dates for a new book release. People are out living their lives after months of being cooped up indoors avoiding bad weather. They're attending graduations and weddings, enjoying much-anticipated vacations. Nonetheless, my book is ready so it's joining the other titles on my Amazon Author page. I'm hoping to eventually tweak my release schedule to December 1, April 1, and August 1.
That's about it. Last book I declared I'd be using the "pre-release" option going forward, but for some undefined reason I decided not to do it with Cellar. Overall, I'm still riding the learning curve, but I feel as if – knock on wood – it's not such a rollercoaster ride, or at least it wasn't this time.
Note from Molly: Check out my novels on Amazon, join my Reader's Club for freebies and book news, and follow me on Twitter. This original content is copyright protected. Thank you so much. Mwah!