by Molly Greene, @mollygreene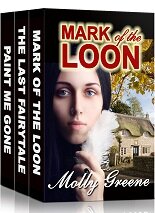 I recently put together a quick boxed set of the first three books in my Gen Delacourt Mystery Series, then went on to build box sets for the rest of my titles. Why do it?
More product
Go wide with singles OR sets and stay in KU with one or the other
Create pricing incentives for readers
Here's a quick rundown of my process.
One: Combine pre-formatted Word docs
I upload pre-formatted Word docs of my manuscripts directly to Amazon when I publish a new title. Controlling the formatting process allows me to control the editing process, which is important to me, because every time I publish a new book, I add that title and its purchase links to every currently published ebook (eventually, lol!) This provides control over small edits, keeping my backlist current, and the calls to action I use in each book. I won't go over it again, but if you're interested, I blogged about my pre-formatting process here: Simple eBook Formatting Using MS Word.
So … to build a boxed set, I combine, in order, the individual Word docs for each manuscript. Then I add a new FIRST page for the newly-bundled ebook. This page functions as a "welcome" to the reader and describes the contents and links to the beginning (copyright page) of each book in the set. I use Word's Bookmark function to link the title on the welcome page to the title on each copyright page.
Two: Buy a 3D box set cover on Fiverr

I'd never used Fiverr before Anne Hagan recommended it – read her Fiverr post here – but now I'm a big fan. Anne provides an in-depth view to using the platform. Be sure to read all her replies to comments for additional info!
I contracted for 3D box set covers, paid $5.50 apiece, and was thrilled with the fast response and delivery, as well as the professional result. Note: I created my own "spine" .jpg for each title, uploaded an example of what I wanted plus detailed instructions for the vendor (spine position, image size, sequence of titles, etc). That made it cheaper for me and easier for the designer.
Three: Upload to Amazon
Once I had the cover and the Word doc mss, I created a new title on my Amazon bookshelf, wrote a new description, added review snippets, then uploaded the whole shebang and published it as Gen Delacourt Mystery Series Boxed Set: Books 1-3.
Promotion and reviews
Reviews are the difficult part, as always. In the past, I've relied on free BookBub promos to accrue reviews, but BB promos – especially free – are getting harder and harder to get. So I am begging readers and fans who've reviewed all three single titles to post a review for the boxed set. *Sigh* It's a universal challenge, and just one part of the hard work we do as indies.
Note from Molly: Check out my novels on Amazon, join my Reader's Club for freebies and book news, and follow me on Twitter. This original content is copyright protected. Thank you so much. Mwah!