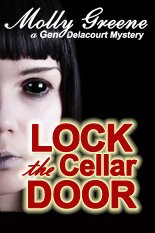 In Book #6, Lock the Cellar Door, Detective Gen Delacourt's life is perfect … until a ceiling collapses on her fiancé during an earthquake. The resulting head injury leaves him tormented and remote, with little recollection of their relationship. All he remembers is the image of a woman in a window and the desperate sound of her sobbing. Frantic and alone, Gen turns to fellow private investigator Devlin Boyle for help. Together they unearth the mystery of Mack's presence in the mansion, why he is now terrified of the dark, and who was weeping. Will Mack recover?
Here's an excerpt:
She had to look away for a minute when he hobbled out onto the porch, working the cane with one hand and clutching a sheaf of daffodils in the other.
They grew thick in a bed on one side of his house, where it was bright and sunny. It was like her old Mack to think of it; he'd done the same thing the last time they'd gone, only then it was fall and he'd bought the blooms he'd carried to his brother.
God, she loved him.
The thought pricked at her heart and she quelled it by considering her own bouquet. She'd also stopped on the way to buy a thick spray of lilacs. They filled the Camaro with a magnificent, heady perfume, and Mack breathed deeply when he climbed into the car.
"Mmmmm."
"I know, huh? Lilacs are my favorite."
He glanced at her, thoughtful. His expression made her wonder if he recalled that fact, or if he was tucking it away, making a note of it. Either way, it sparked hope.
She reached across him and opened the glove box, then pointed. His phone was nestled there. He reached for it, tentative at first, and spent the next few minutes scrolling through the options.
Gen drove with the window down and her elbow on the door frame. Today the silence between them was comfortable, just as it had been before. Mack put the phone in his pocket and sat with his hands on his thighs, sunglasses on, watching out the windows. After a while the corners of his lips quirked up in that way he had of showing everyday pleasure. Gen was glad.
They stopped at Subway and loaded up on tuna torpedoes and chips and a couple tall, cold bottles of water. Minutes later, they were at the gates.
When they were there last, Mack had told her that the first burials in Golden Gate occurred during the Second World War. After over a hundred thousand graves were cut into the original acreage, the grounds were full and the cemetery had been closed to new interments for many years. In spite of that, space became available periodically, and it was good fortune that a spot was waiting for helo pilot James Hackett in his time of need.
Gen dropped Mack and the food and the flowers off at a bench near the entrance and went to park. Before she left the Camaro, she dug a handful of pennies and a quarter out of the ashtray. She didn't smoke, of course, hated it in fact, so used this as a receptacle for spare change passed back to her through the odd fast food drive-through window. Then she went back to the trunk and got a blanket.
Last fall she'd wondered about the coins on the headstones they passed, and Mack explained they were a sign of respect, a message from vets that they'd visited the departed. The custom dated back to the Romans but had grown popular in the U.S. during and after the war in Vietnam.
A penny simply said, I was here. A nickel meant a friend from boot camp or some other training had stopped to pay respects. Acquaintances who'd served in the same division or platoon left a dime, and friends from the same outfit, or who were with the deceased when he died, left a quarter.
She loved that, thinking how deep the connection was, veteran to veteran. She'd loved the idea so much, she'd asked him for a quarter to leave beside Jimmy's stone. She wanted the Hackett boy in Heaven to know she had his brother's back, that it was her watch now.
Today she'd leave another.
When she reached Mack's side again, he rose.
"Do you know about the coins?"
"Yeah," Mack replied. "It's a down payment on a beer or a game of cards, when they meet again."
He started off in the right direction, expertly working the cane. His speed had increased, she noted, and his movements were less hesitant. He was gaining strength. Getting better.
The carillon emitted a beautiful, trilling song and Mack glanced toward the bell tower, either getting his bearings, or just enjoying the tune. A breeze rustled the treetops and urged them toward the northwest quadrant.
Soon Mack began to count stones, and then he dropped his cane in the grass and levered himself to the ground. He brushed two fingertips across his lips, then touched them to the polished white marker.
A rush of unbearable emotion made Gen veer sharply away. A nearby tree threw a bit of shade and she went to it and spread the blanket, giving them both a moment. When she looked again, he had his handkerchief out and was dusting off his brother's name. His mouth was moving. Mack was catching Jimmy up on everything that had come to pass.
A row of headstones beckoned, and she rose and walked among them, saying a silent prayer and placing a penny at each one.
Daniel O'Toole, Beloved Son, 1945. Ronald Coleman, A Life Well Lived, 2012. James Pollard, Father, Husband, Brother, Son, 1992.
When she checked again, Mack was sitting beside Jimmy in the grass. His head rested atop the stone and his arm was slung around the back. A couple of buddies, having a chat. Gen could almost feel the cool marble.
She wandered over to the cemetery's resource station, where they kept little plastic flower holders you could fill with water and stick upright in the ground. She prepared two and returned.
Mack was standing now, staring down at his brother's last resting place with his arms crossed, chin against his chest. She retrieved the bouquets and sank to her knees, then got busy with the task.
"I know who you are, Genny," he whispered. "I remember that much."
It was the first time he'd called her that since he'd been hurt. His words made the breath stick in her throat but she kept her head bent, listening.
"It's coming back, some of it. Little by little." He stopped. She could almost feel him struggling with what he needed to say. And when the words tumbled out, his ache rode with them and sliced through her like a spear.
"But my heart–" He faltered again. "My heart doesn't feel. It's like it's in a cage, or a huge rock is sitting on it. I don't feel anything."
His voice broke on the last word. She finally looked up, her face neutral behind the sunglasses. Two huge tears squeezed out the side of Mack's beautiful eyes. Gen watched their progress down his cheek, and although she yearned to jump up and hold him, her instincts demanded that she let him be.
He couldn't come back until he was ready.
"It's all right," she murmured. "I'm right here, hoping your heart will heal. If it does, I'll be here. I'll wait for you, Mack."
He gave one brisk nod, then raised a thumb to flick the droplets from the corner of his mouth. Gen finished with the flowers, then drew the quarter from her pocket.
She put the coin to her lips and placed it lovingly on the grass beside James Hackett's stone.
Jimmy, bring him back.
# # #
Purchase links: Amazon US, Amazon UK, Amazon Canada
Reviews:
Kathleen C. Perow says, "The sixth entry in the Gen Delacourt series from Molly Greene, and it's a stunner. I've read all six in the last week — they're that good. Her characters are people who grow and change with experience, people who clearly live and love. I won't go into the plot: as another reader has said, these books really do need to be read in order. The dialogue is smooth, the descriptions always given from the character's point of view — something that not all authors understand. The plotting in all the series' books is tight. No loose ends. No artificial deus ex machina. A satisfying read, all the way around, and I'm more than ready for #7."
A Kindle Customer says, "This book really tugged at my heartstrings. After the previous books, I feel like I've come to know and care about the characters in this series. That's part of Molly Greene's skill, her ability to make Gen and Mack and the others come to life in each book. They become a little more real with every story. The book starts out with an "oh my God" moment and I admit to being afraid from the very beginning that something terrible was going to happen . The suspense is palpable, the plot kept me reading and wondering, and we really feel Gen's pain all through the book."
DM says, "Great series. I am looking forward to number seven. These are not your standard PI series books. I learned something in each one and came across some great quotes as well. Some authors find a successful formula and do a series that follows that formula as far as it will take them … but this series continued to surprise me with the unpredictable twists and turns."