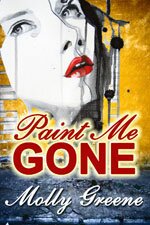 In Book #3, Paint Me Gone, Private Investigator Genevieve Delacourt is hired to find a missing sibling, but it proves to be a convoluted task. The search is complicated by two things: the woman was thought to have committed suicide over twenty years before, and she was the only suspect in a stranger's murder before she disappeared.
Gen's client, Sophie Keene, revives the case when an unsigned painting that depicts her sister in unmistakable detail finds its way into Sophie's hands. The painting holds the key to the missing woman's story, and as Gen unravels the mystery, the threads of her own complicated romantic life fray out of control. In need of help, Gen turns to old friend and one-time romantic interest SFPD Detective Mackenzie Hackett and his insider access to the cold case file, and is forced to fully confront her feelings for the man after their unresolved past.
Here's an excerpt:
Despite her attempts to talk and keep from puffing and maintain Mack's long-legged stride, Gen felt a stitch in her side and was forced to slow down. "Uncle," she said.
"What? You set the pace. I thought you wanted some exercise."
Gen's smile oozed sarcasm. She pointed to a bench. "I need to sit."
Mack slouched down beside her.
Gen leaned back and pulled in a few deep breaths before she spoke again. "The woman was an artist named Laura Ingburg, a long-time Carmel local. I'll bet you a hundred bucks she knows something. Like I said, she closed up as soon as she saw the painting. Before we showed it to her, none of the gallery owners I spoke with knew anything about anything, except for a guy named Herman Jacovich. He acted weird when he saw it, too. But he just blustered and said it was mediocre work and asked me why I was looking for whoever did it. Like that would be a waste of time. He offered to buy it to get it off the street."
"So there might be more to this," Mack said.
"That's what I'm thinking."
"What are you going to do?"
"Start digging. See what I can turn up about Jacovich and Laura Ingburg."
"What do you think you'll find?"
"Aww, who knows. With luck there's a connection. I'll do what I can from here, but I'll probably need to take another trip to Carmel in a while."
"Not a bad place to hang out."
Gen drummed her fingertips on the bench and kept her eyes forward. "Yeah? Since when have you been a connoisseur of fine art."
"I told you a long time ago, I love San Francisco. I enjoy a lot of things. Wine, food. Theatre." Mack turned his head and brought reality crashing in. "I've been getting more involved in the art scene, and I met someone who was interested. We started dating."
Their eyes locked. "Congratulations," Gen said.
"It's not like that."
"What do you mean?"
"I mean you sound like you're giving the groom a slap on the back."
Gen looked away. "Whatever it is, I'm happy for you."
Mack laughed, then put his hand on her thigh and squeezed.
"What was that for?"
"I've missed you."
She felt a flurry of opposing emotions and stood. "Look, Mack, I've been busy. I have a business and clients and a mortgage and–" She strode briskly away down the sidewalk, pumping her arms, then threw a big windmill swing over her shoulder. "Let's go," she cried.
Mack caught up and grabbed her bicep, then spun her around to face him. His expression was tight. She'd never seen him mad, but she thought this might be close to it.
"Look, Genny, all I said was I missed you. That's it. Don't read any more into it. I wasn't implying that these last few months should have been anything other than what they were. Your life is your own." He took in some air, but he wasn't done with her yet. "Friends should be able to tell friends they're missed. End of story. If you feel guilty, it comes from inside you, not from me. I didn't say my life wasn't complete without your presence in it, all right? I like you a lot. I was disappointed when nothing developed between us, but I understand. Now get over yourself. You're not all that."

Gen's jaw dropped. This is what shock and awe felt like. She could imagine her expression: a cross between devastated and impressed beyond words. Mack had a gift for telling it like it is, but today was the first time he'd aimed the cannon of truth at her.
And darned if he wasn't right.
# # #
Purchase links: Amazon US – Amazon UK – Amazon Canada
Reader reviews:
Nancy E. Shannon says, "I thoroughly enjoyed this book and the characters – Gen isn't an idiot, nor are the people she surrounds herself with. I love the arc of the plot and the history included. What I really appreciated was Gen not being like so many other female characters; too tough or too stupid. I look forward to reading more."
An Amazon Customer says, "I enjoyed this book very much. The story was interesting with enough twists and turns to keep you turning pages. It is very well written. The characters are believable as real people. I'm anxious to see the relationship develop between Gen and Mack."
Joann Whitney says, "Could not put the book down!"